Abarth Leasing
There are a number of models that people choose for their business when they want a solid, reliable car that accentuates the core aspects of their business. However, there are also companies that want a car that's a little bit different to show off their personality, and stay in the minds of potential customers and existing clients.
An Abarth business lease is an affordable way for brands to get their hands on a fantastic car that won't drain the monthly budget. Abarth business contract hire is a fantastic option, especially for smaller companies that are looking to make their mark.
Abarth's roots lie in the motoring industry, with the company being created in April 1949 in Turin, Italy, to produce racing cars. It's currently part of the Fiat family, with Abarth now also releasing models for consumers to purchase.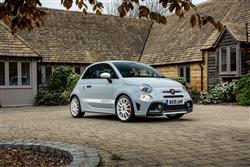 Prices starting from
Prices starting from
Hot offers to Click & Drive
Vehicle Guides
Business contract hire
With access to new cars at fixed monthly costs, discover how BCH could be the best option for you.
Business lease maintenance
Our maintenance package helps keep your fleet on the road. Discover what's included here.
Personal leasing top tips
We have created a list of top tips to help you make the most of your personal lease agreement.
Car fair wear & tear
This guide lays out the condition that you are expected to return your van in at the end of your contract.