Isuzu Van Leasing
Unlike most of its LCV competitors, Isuzu only specialises in commercial vehicles, the Japanese brand known globally for its wide range of trucks, notably the 3.5 Tonne Grafter and the various Forward models that range in size from 5.5 to 12-tonnes. When it comes to light commercial vehicles, the model that Isuzu is known for is the D-Max pick-up, recently revised to incorporate a much more efficient 1.9-litre diesel powerplant beneath the bonnet.
The engine puts out 164bhp and this pick-up's 3.5-tonne towing capacity remains un-bettered in the class. As well as the usual Double Cab bodystyle, there are Single Cab and Extended Cab options, plus there's a two-wheel drive variant at the bottom of the range, with an automatic gearbox option further up. All variants offer 1,530mm of load bay width and 465mm of load bay depth. That of course makes the cargo area easily big enough for a euro pallet, which can slide in the 1,110mm-wide space between the wheelarches.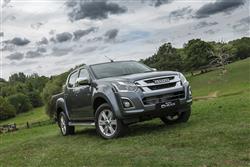 Prices starting from
Hot offers to Click & Drive
Vehicle Guides
Business contract hire
With access to new cars at fixed monthly costs, discover how BCH could be the best option for you.
Business lease maintenance
Our maintenance package helps keep your fleet on the road. Discover what's included here.
Personal leasing top tips
We have created a list of top tips to help you make the most of your personal lease agreement.
Van fair wear & tear
This guide lays out the condition that you are expected to return your van in at the end of your contract.