Iveco Van Leasing
IVECO is a truck manufacturer well renowned for its Euro Cargo and Stralis heavy duty models. However, the Italian brand also extends its expertise into the light van market with the comprehensive Daily range. For the current MK3 model, over 80% of the Daily's bodywork components were re-designed, as was the suspension, and the results are impressive. The Italian brand claims this to be one of the lightest contenders in its category, yet this van can take bigger, heavier loads than ever before.
Certainly no other vehicle in this class can be ordered with a 7.2- tonne Gross Vehicle Weight or a load volume of up to 19.6m3. The gearbox technology on offer here also sets the standard, with the third generation Daily model offering the option of something very rare in this segment – fully-automatic transmission, the efficient Hi-Matic eight-speed gearbox. Buyers choose between panel van and chassis cab options, plus there's a capable 4x4 version too.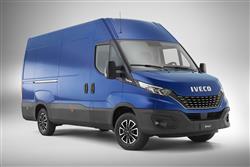 Prices starting from
Hot offers to Click & Drive
Vehicle Guides
Business contract hire
With access to new cars at fixed monthly costs, discover how BCH could be the best option for you.
Business lease maintenance
Our maintenance package helps keep your fleet on the road. Discover what's included here.
Personal leasing top tips
We have created a list of top tips to help you make the most of your personal lease agreement.
Van fair wear & tear
This guide lays out the condition that you are expected to return your van in at the end of your contract.